The idea of aging in place is lovely, after all, why would you want to leave the home where you have made a lifetime of memories? However, as we age, we may need to make some adjustments and modifications to make aging in place a bit easier. Let's discuss some home modifications that will make your life easier and allow you to stay in your home more comfortably.
Bathroom
Safety is essential when modifying your home for aging in place. In the bathroom, you must be able to move about freely without obstruction and with convenience. Think about these modifications when updating your bathroom.
Grab bars – in the bathroom, grab bars assist with fall prevention and injuries. According to the CDC, 29% of emergency room visits by people over the age of 65 were due to injury and the percentage due to falls increases with age.
Use a shower chair – if installing a walk-in bathtub is not an option for you, consider using a shower chair. Sitting while bathing makes it much more comfortable and safer to bathe.
Raise the toilet – there are many options to raise the toilet and make it easier to get up and down when using the bathroom. Whether you decide to use a seat riser that fits over the existing seat or install an extra high commode all together, having a raised seat will be of great assistance.
Install a walk-in tub – getting in and out of a standard bathtub can be an issue as you age. Lifting your foot over the edge of a traditional bath requires balance that can diminish as we age.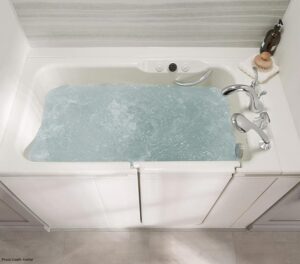 Interior
Widen doorways – extra-wide doorways allow for walkers or other mobility assistance that you may need. 
Change out the doorknobs – lever style door knobs are easier to grip and don't require the same twisting motion as standard knobs, making it easier to manipulate and maneuver between rooms. 
Clear out excess furniture and clutter – it is necessary to make sure you have clear passageways for easy mobility and safety reasons. 
Stairlifts – if you have a flight of stairs to climb, an electric chair lift can make the climb much safer and more manageable. Mobility issues can make it difficult to get up and down the stairs. Having some assistance getting between floors may be one of the best options for aging in place.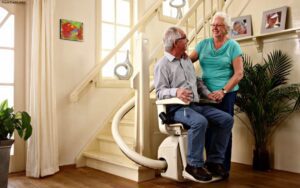 Exterior
Install a ramp – let's not forget to address outside stairs, too. Building a ramp, by removing the stairs all together or placing a ramp over the steps is a good option. Planning to make accommodation for walkers or wheelchairs is a great idea when building a ramp.
Lighting – brighter lighting makes it easier and safer to navigate the outside of the house. It allows you to see any obstacles that may be in your way or potential fall hazards. Some are of the school of thought that the more lighting, the better. Make sure to address any dark corners and all entrances and exits should be brightly lit, as well.
Sidewalks – addressing the sidewalks and pathways around your house and making sure they are level and free from any debris. This is another excellent place to increase lighting.
As you can see, many modifications can be made to help you with aging in place. If you have made modifications and feel you may benefit from some additional care as well, please contact Shepherd's Staff In-home Care and ask about our available services.