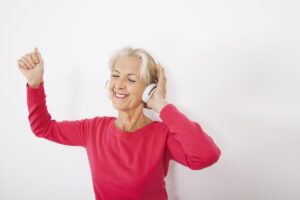 Does the winter weather give you the blues? It starts out busy with the holidays, but then the reality sets in with shorter days and colder temperatures that keep us inside. Remember that it is essential to stay active, both physically and mentally, regardless of the cold air and earlier sunsets. Here are some ideas to keep you motivated and engaged this winter, so you can remain happy and healthy, the whole year through.
Exercise
Exercise in whatever way you are able to. If you need assistance with balance, please be sure to use a table or chair for stability. You can even do your exercises seated. Make it more fun by doing it to music.
If you have had physical therapy in the past, pull out those exercise sheets and do those exercises.

March in place, if you aren't able to stand and do it, you can do it seated by alternating lifting your knees.

Slow, gentle stretches will help with the range of motion and these exercises and are softer on the body.

Stationary bikes

are great for seniors. It's a low impact way to exercise with lots of great health benefits. If you don't have the whole bike, it's possible to buy just the pedals that you use from a regular chair.

Balloon toss – blow up a balloon or beach ball to bat back and forth with a friend or loved one.

NERF basketball – the net hangs over a door frame and comes with a ball. See how many points you can score.
Dancing
Dancing is a fun way to bring the music of your favorite era back to life. It is also a fabulous way to burn some calories. If you are connected to cable television, there are several stations that have music you can play, or there are several internet music providers. There are no rules, just move your body to the music and most importantly, have fun!
Games
Puzzles are a great way to not only keep your mind active and exercise manual dexterity but to keep busy, as well. Try to get puzzles that have more substantial pieces, so they are a little easier to handle.

Word Search or Crossword Puzzles are also a fun indoor activity that keeps your mind active and gives you something to pass the time.

Word games such as

Scrabble

or

Bananagrams

are great for stimulating the brain and engaging the mind. If there are issues playing the actual game, it's helpful merely to make words using the tiles.
Household activities
Laundry – folding small linens or matching socks can be an activity to keep busy.

Dusting is an activity that can be enjoyed and offers help with manual dexterity. However, if there are issues with manual dexterity, using sock-covered hands to dust is a big help.

Baking has many therapeutic benefits. Cooking and baking activate all the senses. Smell is a powerful sense for triggering happy memories. In addition to awakening the senses, it encourages self-expression with decorating the cakes and cookies. Incorporate baking into charity work for your church or other organization bake sales etc…to get the benefits of baking and community service all in one.
As you can see, there are lots of indoor activities that you can enjoy inside. We've mentioned some that can be done alone if you are able or with the help of a loved one or home aide. Keeping busy and agile during the winter months is vital since the cold weather tends to keep us indoors so much more. Remember to have fun with whatever activity you choose!